Developer: Square
Publisher: Acclaim Entertainment
Designger: Hironobu Sakaguchi
Programmer: Nasir Gebelli
Composer: Nobuo Uematsu
Release Date: 1987
Grab your 3-D glasses and get ready to dodge some baddies before you go blind– it's The 3-D Battles of WorldRunner!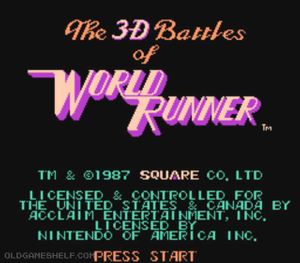 3-D WorldRunner consists of running in a "3-D" world. The end.
OK, so there's more to it than that. You also hop. The end.
Well, there are also monsters you avoid, and at the end of a level (or maybe after a certain amount of stars are collected?), you can shoot at a boss or two.
If you run into columns along your jaunt, you may get a crappy power-up that gives you extremely short invinciblity or allows you to take an extra hit. You can also get a 1up, but don't eat the mushrooms– instant death. Oh, and no continuing from worlds you reach, which got old fast.
The 3-D is accessed by pressing "Select". I actually dug out some 3-D glasses and gave it a whirl, but it gave me more of a headache than a sense of 3-D.
The shining star of 3-D WorldRunner is by far the music. The score had me humming along as I played, and is easily the best thing I've heard in the few games I've reviewed so far.
Overall, The 3-D Battles of WorldRunner is more gimmick than game, and the gimmick doesn't even work well. The graphics are lame, the power-ups aren't powerful, and starting over all the way at the beginning after dying made the game more frustrating than fun. But man, that music is great.
1.0/5
Check out my playthrough on twitch!